I cannot believe how soon it is until Christmas. Every year it seems impossibly far away, until it creeps up until BAM, it is sneakily right around the corner and you're left with no gifts, no organisation, nothing in the cupboard and a large dose of panic.
Fortunately this year I actually strapped my Christmas boots on months in advance and absolutely vowed to myself I would be organised in order to avoid this all too familiar scenario.
It mostly worked; with the assistance of budget spreadsheets on google drive, ringing relatives early and demanding to know what they wanted for Christmas and of course, making thousands of lists of gift ideas, what to buy and when.
Of course, that never means that you remember everything – leaving last minute trips to the horrifyingly busy shops and queues a yearly reality for that last minute gift so nobody will miss out, but ya gotta do what ya gotta do, I guess!
Another thing that's crept on me recently – this month's Sweet Adventure's Blog Hop, hosted by the lovely Christina from the Hungry Australian. This month's theme is "Sweets for Santa". For those who are new to the SABH concept, its a monthly dessert themed blog hop hosted by 84th & 3rd, The Capers of the Kitchen Crusader, Delicieux, Dining with a Stud and The Hungry Australian. Bloggers participate by creating a dessert according to that month's theme and post about it and read about other bloggers' themed desserts – a great way to connect with other bloggers and share yummy and creative recipes!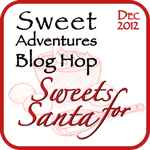 I had been meaning to pop my Christmas hat on for some time but the weeks got away from me and finally I had the time to make a batch of these Christmas truffles.
These pudding truffles are basically a Christmassy version of a cake pop (minus the lolly pop stick) – you simply crumble fruit cake, mix in melted chocolate, shape into truffle sized balls, dip into more melted chocolate and decorate.
You can also add a splash (or more!) of alcohol for an adult-version if you are so inclined, but this version is great for kids as well. If you're also struggling to come up with ideas for what to bring to a Christmas 'do this year, turn up with a plate of these and you'll be the star of the party!
While it is time consuming forming all of the truffles and decorating with the cherries, these are very simple to put together. You could use it as a fun project you could make you with your kids and really, it does require very few ingredients – just pre-bought christmas cake, a lot of chocolate, a little coconut oil (if you don't have this, you could of course substitute with another flavourless vegetable oil, e.g. soybean, etc*) and a few glacé cherries, I mean hey, it wouldn't be Cooking Crusade if it weren't ridiculously simple!
*please note that oils such as olive, peanut or sesame would not be suitable oils to substitute for coconut as they are quite strongly flavoured. the coconut oil has quite a mild flavour and is not really noticeable in this recipe.
Occasionally I'll go a little bit camera-nuts and decide I want to take in depth photos step by step of how to make a particular recipe, and this is one of those times! So just a warning, this post is pretty pic heavy!
So, lets get down to truffling!

To start, you will need light fruit cake, 2x bars good quality dark chocolate, 1 x bar white chocolate, some glace cherries and some coconut oil.

To start, roughly chop your fruit cake to make it easier to mash up. I bought an 800 gram packet, but only wanted 600 grams, so chopped it into 8 equal pieces and only used six of them.

Meanwhile, break up your first bar of dark chocolate to melt (I used 10 sec bursts in the microwave).

Pour melted chocolate into cake mixture.

Incorporate until the mixture resembles (this is hardly poetic, but) soil.

Start melting your second batch of dark chocolate and add a teaspoon of coconut oil.

Melted chocky goodness.

Using a teaspoon, scoop out one spoonful of the mixture and rolling between your hands, form small balls and place on a baking tray lined with baking paper. If time allows, plunk it into the fridge to set for about an hour. But if you're like me, proceed and hopefully everything will be fine!

Ready for dunking? This is the fun part!

Roll your truffles in the melted chocolate.

Until you have many shiny chocolatey truffly balls of goodness.
By the way – if you wanted to set these now and serve them as is if you don't have time to decorate, these would be great as is and still taste pretty much the same with the additional decorating. But if you want things to be slightly prettier and more Christmassy, soldier on!
Now pop these little chocolate goodies into the fridge to set.
While those are setting, prepare your decorations.

I used 100 grams of white chocolate (about 4 bars of a Cadbury Dream family size bar).

You could melt this separately in a bowl and then pour into your chosen piping bag / bottle / ziplock bag if you prefer, but I found it easier to simply just pop the chocolate into the piping bottle and melt it directly in there in the microwave.

Melted.
I added a teaspoon of coconut oil to this too to thin it a little for piping.

Slice your glacé cherries all ready for decorating.
I bought these from Coles in the baking aisle.
SO I didn't get very many photos of the decorating process, sorry! But I will explain it as best I can…
Slice your glacé cherries thinly – the idea is that the truffles look like mini Christmas puddings with custard (the white chocolate) and holly leaves (the glacé cherries). Pipe the melted white chocolate onto the tops of the truffles and arrange glacé cherries on top while the chocolate is still liquid, to 'glue' them on top. And that's pretty much it! Return to the fridge to finish setting the chocolate and you're done!

A plate of goodies to take to my next Christmas party!

These are also great to wrap up and give as gifts over this Christmas season.
Christmas Truffles (a recipe by Cooking Crusade)
Makes: 40 truffles (approx)
Time to prepare: About 30-40 minutes to prepare, 1-2 hours to chill and another 20-30 minutes to decorate
Ingredients
For the truffles
600 grams light fruit cake, sliced into chunks
200 grams dark chocolate (I used Nestle Plaistowe 70% Cocoa dark chocolate)
For the truffle chocolate coating
200 grams dark chocolate (I used Nestle Plaistowe 70% Cocoa dark chocolate)
1 teaspoon coconut oil
For the white chocolate truffle coating
100 grams white chocolate (I used Cadbury Dream)
1 teaspoon coconut oil
Red and green glacé cherries to decorate
Equipment needed
Large mixing bowl, masher (or fork), small glass bowl (enough to hold chocolate), 1 piping bottle (or a ziplock bag will do in a pinch), sharp knife and cutting board, baking tray lined with grease proof paper.
Place fruit cake in a large mixing bowl. Mash the heck out of it using a potato masher, or even a fork will do in a pinch. You could use a food processor if you wanted this crazily smooth, but I don't mind a bit of texture to it, and honestly I think the masher/fork does a pretty good job most of the way.
Melt 200 grams dark chocolate in a smaller bowl (I usually microwave it in 10 second bursts until completely melted). Pour melted chocolate into the mashed up fruit cake.
Fold chocolate and cake together until the chocolate is fully incorporated into the cake. The mix should have a fairly uniform colour.
Using a teaspoon, scoop up the chocolate cake mixture and roll between the palms of your hands until you have small balls. Place on a lined baking tray until you have used all the chocolate/cake mixture. Place in the fridge to set. (*Note: if you are an impatient lady like me, you can skip this step, but this will probably keep the balls from falling apart in the melted chocolate – not that I had massive issues with this, but it would probably make them handle a bit better).
Prepare your second batch of chocolate for the truffle coating. Break up the bar of chocolate and place in the same bowl you used for chocolate melting previously (hey, save on washing up why not?) Add a teaspoon of coconut oil and melt the same way you did before (10 sec bursts in the microwave) or your fave choccy melting method.
Remove truffles from the fridge and dip into melted chocolate. Roll in the melted chocolate using a spoon, remove and drizzle excess chocolate off truffle (as much as possible) and return to baking tray. Repeat until all truffles are coated. I found that the 200g of chocolate was the perfect amount to coat the 40 truffles I got out of this recipe. Return truffles to the fridge to set again.
Place 100 grams white chocolate into your piping bottle and microwave until completely melted. Add coconut oil and stir to combine. Pipe white chocolate onto your set truffles and add chopped glacé cherries to decorate to look like mini Christmas puddings. Set the white chocolate in the fridge. Best served at room temperature and great to give as gifts!
I do hope you all have absolutely lovely plans for Christmas! I'm hosting a small Christmassy get together this Sunday (my first one, truth be told. I'm rather excited!) Then the usual family get togethers with my and my partner's families over Christmas and Boxing Day with the usual food and gift frenzy! I've also booked movie tickets in advance to see Les Mis on Boxing Day night – it looks amazing and I can't wait! A week or so off work will also be very greatly appreciated and hopefully I will spend a great deal of the time sleeping and lazily eating. Heaven!
Much love and have an absolutely amazing Chrissy!!
xo
C
Wanna keep in touch? Why not like me on Facebook by clicking here, or follow me on Twitter by clicking here 🙂