Browsing Tag
easy
It's been a while between recipe posts! So what better reason to kick back in the kitchen and start creating some cooling down treats other than this intense heat Sydney has been having lately. And what better time to make a bunch of pink recipes other in October for Breast Cancer Awareness?
Did you know that breast cancer is the most common cancer in women in Australia? It is also the second most common cancer to cause death in women after lung cancer (source: Cancer Council Australia). Breast cancer is so common in Australia it is difficult to escape having a close relative or knowing of a friend who has a close relative who has suffered from this awful disease. As ladies it's definitely something we all need to watch out for ourselves by doing regular checks at home as well as regular check-ups at the doctor's. For info about checking yourself out at home, visit this link here.
You know me and I love simple, so what's more simple than recipes with only two ingredients that's easy to put together? All you need is a blender/food processor, some yoghurt, bananas, milk and you're set to make both of these cool-down treats.

Start out with some ripe, spotty bananas.

Peel and chop.

Pop into ziplock bags and seal. Freeze overnight.

This is what you're after.

Place bananas (about two cups frozen banana chunks) into food processor.

Whizz until creamy and soft serve-like (by the way, if you haven't tried making this at home before, you are missing out! It's the perfect vegan ice-cream — super creamy and totally versatile!)

Measure out one cup of strawberry yoghurt and spoon into the food processor. Whizz for another 20 seconds or until fully combined.

Straight from the food processor, it has the thick, creamy consistency of soft serve. It was a rather hot day that I made this on so it was even a tiny bit softer than this, so I decided to pop it into the freezer to harden up a bit (but of course it's still enjoyable at this stage!)

And here you go, post freezer!
Two-Ingredient Berry Banana Froyo
Author: CookingCrusade.com
Makes: 3-4 servings of frozen yoghurt
Time to prepare: Bananas need to be frozen overnight, but this takes about 10 minutes to put together. Easy!

Berry Banana Froyo
3-4 ripe bananas
1 cup strawberry yoghurt (I used SKI Strawberry Yoghurt)
optional: a few drops of rose pink food colouring to make it extra pink! or three hulled strawberries if you have them would work well too!
Equipment needed: freezer, food processor
Steps
Peel, chop and freeze bananas in ziplock bags overnight.
Remove bananas from the freezer and place in processor bowl. Process until creamy.
Add the strawberry yoghurt and pulse for 20 seconds until well combined. Serve as soft serve creamy consistency or pour into a freezer friendly container and freeze for up to 6 hours to harden to scoopable consistency. Serve with sprinkles! 😉
Sprinkles optional!
Two-Ingredient Strawberry Lassi
Author: CookingCrusade.com
Makes: 1 serving (doubles or triples nicely for extra servings if needed.)
Time to prepare: 1 minute

Strawberry Lassi
1.5 cups strawberry yoghurt
3/4 cup milk of choice (I used soy, but feel free to use cow, rice, almond etc.)
optional: a few drops of rose pink food colouring to make it extra pink! or three hulled strawberries if you have them would work well too!
Equipment needed: blender
Steps
Pour yoghurt and milk into blender and pulse for about 1 minute or until smooth and creamy. Pour into a glass and serve.
Enjoy these summery treats and I hope you have a fabulous week!
xo
C
I absolutely love doughnuts. I mean, who doesn't? As a child, they were never something that my parents indulged in frequently but on the rare occasion, my mum would buy the cinnamon ones from Coles where I developed the unsurprising power to make a good handful disappear in not much time at all.
I was pretty excited to pick up a doughnut pan to give baked cake style doughnuts a try and as usual can't stop of thinking of things to try. I'm thinking dulce de leche swirls, pine nuts, coconut, white chocolate & macadamia with lime or even dark chocolate with some grated orange zest?

Mixing wet ingredients with dry to form the batter.

Spoon doughnut batter into tin and bake for 15 minutes or until lightly browned.

And now for the fun part, coating them in sugary goodness!

You can try coating them in a simple glaze (Krispy Kreme style).

Or try the classic cinnamon doughnut (toss them in a mixture of caster sugar with a few dashes of ground cinnamon).
Basic Doughnuts
Dairy free, nut free
Author: CookingCrusade.com

Makes: 6 doughnuts
Time to prepare: 5 minutes to make batter, 15 minutes to bake
Basic Doughnuts
1 cup self raising flour
1/4 cup white sugar
1/2 a cup milk (I used soy milk but feel free to use whatever you have on hand)
1 tablespoon vinegar (to sour your milk to turn it into buttermilk. I've only successfully used this with cow and soy milk, so unsure of results on almond, rice, etc. If you just have those on hand, I would recommend skipping the vinegar step.) If you have buttermilk on hand, you could of course use this in place of the milk/vinegar mixture.
1 egg
1 tablespoon oil (or melted butter or vegan butter such as Nutellex. I used macadamia oil, but you could use another mild flavoured oil such as soy bean or rice bran)
a pinch of salt
a pinch of nutmeg (optional)
Simple glaze
1 tablespoon of butter, melted (I used Nutellex)
1/2 cup icing sugar, sifted
1 tablespoon of milk of choice, or water
Mix all ingredients together until it forms a thin icing. If you prefer a thicker consistency, add more sifted icing sugar. For a thinner consistency, add more milk/water. Dip (or double dip!) doughnuts into glaze and place on a plate and allow the icing to set.
Cinnamon sugar
2 tablespoons of butter, melted (I used Nutellex)
1/2 cup caster sugar
1/2 teaspoon of ground cinnamon
Brush cooled doughnuts with melted butter. Combine sugar and cinnamon in a bowl and dip in doughnuts. Serve.
Equipment needed: one bowl, one wooden spoon and one doughnut pan (I used a six doughnut pan by Wilton)
Steps
Preheat oven to 180 degrees C and grease doughnut pan so it is ready for the batter (I used oil, you could use melted butter/non dairy spread.)
Sift flour into your bowl and add sugar, salt and nutmeg if using.
In a small jug, add your milk of choice, then vinegar and allow to stand for about 20-30 seconds. Crack egg in and beat into milk mixture. Add oil/melted butter to milk mixture.
Pour in your wet ingredients into your dry ingredients and stir with wooden spoon until completely mixed together.
Spoon doughnut batter into tin and bake for 15 minutes or until lightly golden and the doughnut springs back to touch.
Allow doughnuts to cool before adorning with frosting, dipping into glazes or rolling in cinnamon sugar. Enjoy!
This recipe doubles or triples nicely, but I only made enough batter to fill my doughnut pan once.
Chocolate fudge dipped cake doughnuts!
Wanna keep in touch? Why not like me on Facebook by clicking here, or follow me on Twitter by clicking here 🙂
Is there anything better than fresh homemade pesto? The jarred stuff can be useful in a pinch, but in my opinion, it pales in comparison with the real stuff.
I had a good amount of macadamias stashed away at home (thanks to Australian Macadamias) and thought I'd try substituting macadamias for the usual pine nuts — I was really happy with the results! I really enjoyed the extra crrunch and texture the macadamias gave to this recipe, which was quite a bit chunkier than your every-day pesto sauce and a nice change.
Macadamia Pesto
Author: CookingCrusade.com
Makes: Just over a cup of pesto
Time to prepare: 5 minutes
Macadamia Pesto
1 cup loosely packed basil leaves
1/2 cup raw macadamias (unsalted)
3 garlic cloves, peeled
1/2 cup parmesan cheese, sliced, or grated
1/4 cup macadamia oil (or you could use olive oil or another mild flavoured oil, such as soybean or rice bran)
Equipment needed: a food processor
Steps
Place all ingredients into food processor bowl and pulse until chunky. Serve.
You could also try toasting your macadamia nuts prior to blending for a bit of extra flavour.
This pesto is fantastic stirred through freshly cooked pasta or gnocchi, but there are lots of to her ways you could use up leftover pesto! Why not try:
Adding a spoonful to your scrambled eggs in the morning
Spreading some on toasted bread, then topping with fresh garlicky chopped tomatoes for a twist on your classic bruschetta
Stirring through a few spoonfuls to freshly cooked risotto
Adding to a cheesy sauce (for basil macaroni and cheese, or in a bechamel sauce to layer between your lasagne)
Whip with softened whipped butter to make flavoured pesto butter – great on toast!
Serve as an accompaniment to meat like steaks, baked chicken breast, fish fillets or serve with steamed veggies
Use as a sandwich spread with your fave sandwich ingredients, or for wraps
Whip with cream cheese, or as a dip for crackers or veggie sticks
And I'm sure there are many more creative uses for pesto out there. Let me know if you have any other ideas!
Wanna keep in touch? Why not like me on Facebook by clicking here, or follow me on Twitter by clicking here 🙂
I cannot believe how soon it is until Christmas. Every year it seems impossibly far away, until it creeps up until BAM, it is sneakily right around the corner and you're left with no gifts, no organisation, nothing in the cupboard and a large dose of panic.
Fortunately this year I actually strapped my Christmas boots on months in advance and absolutely vowed to myself I would be organised in order to avoid this all too familiar scenario.
It mostly worked; with the assistance of budget spreadsheets on google drive, ringing relatives early and demanding to know what they wanted for Christmas and of course, making thousands of lists of gift ideas, what to buy and when.
Of course, that never means that you remember everything – leaving last minute trips to the horrifyingly busy shops and queues a yearly reality for that last minute gift so nobody will miss out, but ya gotta do what ya gotta do, I guess!
Another thing that's crept on me recently – this month's Sweet Adventure's Blog Hop, hosted by the lovely Christina from the Hungry Australian. This month's theme is "Sweets for Santa". For those who are new to the SABH concept, its a monthly dessert themed blog hop hosted by 84th & 3rd, The Capers of the Kitchen Crusader, Delicieux, Dining with a Stud and The Hungry Australian. Bloggers participate by creating a dessert according to that month's theme and post about it and read about other bloggers' themed desserts – a great way to connect with other bloggers and share yummy and creative recipes!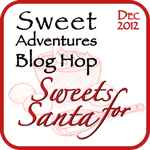 I had been meaning to pop my Christmas hat on for some time but the weeks got away from me and finally I had the time to make a batch of these Christmas truffles.
These pudding truffles are basically a Christmassy version of a cake pop (minus the lolly pop stick) – you simply crumble fruit cake, mix in melted chocolate, shape into truffle sized balls, dip into more melted chocolate and decorate.
You can also add a splash (or more!) of alcohol for an adult-version if you are so inclined, but this version is great for kids as well. If you're also struggling to come up with ideas for what to bring to a Christmas 'do this year, turn up with a plate of these and you'll be the star of the party!
While it is time consuming forming all of the truffles and decorating with the cherries, these are very simple to put together. You could use it as a fun project you could make you with your kids and really, it does require very few ingredients – just pre-bought christmas cake, a lot of chocolate, a little coconut oil (if you don't have this, you could of course substitute with another flavourless vegetable oil, e.g. soybean, etc*) and a few glacé cherries, I mean hey, it wouldn't be Cooking Crusade if it weren't ridiculously simple!
*please note that oils such as olive, peanut or sesame would not be suitable oils to substitute for coconut as they are quite strongly flavoured. the coconut oil has quite a mild flavour and is not really noticeable in this recipe.
Occasionally I'll go a little bit camera-nuts and decide I want to take in depth photos step by step of how to make a particular recipe, and this is one of those times! So just a warning, this post is pretty pic heavy!
So, lets get down to truffling!

To start, you will need light fruit cake, 2x bars good quality dark chocolate, 1 x bar white chocolate, some glace cherries and some coconut oil.

To start, roughly chop your fruit cake to make it easier to mash up. I bought an 800 gram packet, but only wanted 600 grams, so chopped it into 8 equal pieces and only used six of them.

Meanwhile, break up your first bar of dark chocolate to melt (I used 10 sec bursts in the microwave).

Pour melted chocolate into cake mixture.

Incorporate until the mixture resembles (this is hardly poetic, but) soil.

Start melting your second batch of dark chocolate and add a teaspoon of coconut oil.

Melted chocky goodness.

Using a teaspoon, scoop out one spoonful of the mixture and rolling between your hands, form small balls and place on a baking tray lined with baking paper. If time allows, plunk it into the fridge to set for about an hour. But if you're like me, proceed and hopefully everything will be fine!

Ready for dunking? This is the fun part!

Roll your truffles in the melted chocolate.

Until you have many shiny chocolatey truffly balls of goodness.
By the way – if you wanted to set these now and serve them as is if you don't have time to decorate, these would be great as is and still taste pretty much the same with the additional decorating. But if you want things to be slightly prettier and more Christmassy, soldier on!
Now pop these little chocolate goodies into the fridge to set.
While those are setting, prepare your decorations.

I used 100 grams of white chocolate (about 4 bars of a Cadbury Dream family size bar).

You could melt this separately in a bowl and then pour into your chosen piping bag / bottle / ziplock bag if you prefer, but I found it easier to simply just pop the chocolate into the piping bottle and melt it directly in there in the microwave.

Melted.
I added a teaspoon of coconut oil to this too to thin it a little for piping.

Slice your glacé cherries all ready for decorating.
I bought these from Coles in the baking aisle.
SO I didn't get very many photos of the decorating process, sorry! But I will explain it as best I can…
Slice your glacé cherries thinly – the idea is that the truffles look like mini Christmas puddings with custard (the white chocolate) and holly leaves (the glacé cherries). Pipe the melted white chocolate onto the tops of the truffles and arrange glacé cherries on top while the chocolate is still liquid, to 'glue' them on top. And that's pretty much it! Return to the fridge to finish setting the chocolate and you're done!

A plate of goodies to take to my next Christmas party!

These are also great to wrap up and give as gifts over this Christmas season.
Christmas Truffles (a recipe by Cooking Crusade)
Makes: 40 truffles (approx)
Time to prepare: About 30-40 minutes to prepare, 1-2 hours to chill and another 20-30 minutes to decorate
Ingredients
For the truffles
600 grams light fruit cake, sliced into chunks
200 grams dark chocolate (I used Nestle Plaistowe 70% Cocoa dark chocolate)
For the truffle chocolate coating
200 grams dark chocolate (I used Nestle Plaistowe 70% Cocoa dark chocolate)
1 teaspoon coconut oil
For the white chocolate truffle coating
100 grams white chocolate (I used Cadbury Dream)
1 teaspoon coconut oil
Red and green glacé cherries to decorate
Equipment needed
Large mixing bowl, masher (or fork), small glass bowl (enough to hold chocolate), 1 piping bottle (or a ziplock bag will do in a pinch), sharp knife and cutting board, baking tray lined with grease proof paper.
Place fruit cake in a large mixing bowl. Mash the heck out of it using a potato masher, or even a fork will do in a pinch. You could use a food processor if you wanted this crazily smooth, but I don't mind a bit of texture to it, and honestly I think the masher/fork does a pretty good job most of the way.
Melt 200 grams dark chocolate in a smaller bowl (I usually microwave it in 10 second bursts until completely melted). Pour melted chocolate into the mashed up fruit cake.
Fold chocolate and cake together until the chocolate is fully incorporated into the cake. The mix should have a fairly uniform colour.
Using a teaspoon, scoop up the chocolate cake mixture and roll between the palms of your hands until you have small balls. Place on a lined baking tray until you have used all the chocolate/cake mixture. Place in the fridge to set. (*Note: if you are an impatient lady like me, you can skip this step, but this will probably keep the balls from falling apart in the melted chocolate – not that I had massive issues with this, but it would probably make them handle a bit better).
Prepare your second batch of chocolate for the truffle coating. Break up the bar of chocolate and place in the same bowl you used for chocolate melting previously (hey, save on washing up why not?) Add a teaspoon of coconut oil and melt the same way you did before (10 sec bursts in the microwave) or your fave choccy melting method.
Remove truffles from the fridge and dip into melted chocolate. Roll in the melted chocolate using a spoon, remove and drizzle excess chocolate off truffle (as much as possible) and return to baking tray. Repeat until all truffles are coated. I found that the 200g of chocolate was the perfect amount to coat the 40 truffles I got out of this recipe. Return truffles to the fridge to set again.
Place 100 grams white chocolate into your piping bottle and microwave until completely melted. Add coconut oil and stir to combine. Pipe white chocolate onto your set truffles and add chopped glacé cherries to decorate to look like mini Christmas puddings. Set the white chocolate in the fridge. Best served at room temperature and great to give as gifts!
I do hope you all have absolutely lovely plans for Christmas! I'm hosting a small Christmassy get together this Sunday (my first one, truth be told. I'm rather excited!) Then the usual family get togethers with my and my partner's families over Christmas and Boxing Day with the usual food and gift frenzy! I've also booked movie tickets in advance to see Les Mis on Boxing Day night – it looks amazing and I can't wait! A week or so off work will also be very greatly appreciated and hopefully I will spend a great deal of the time sleeping and lazily eating. Heaven!
Much love and have an absolutely amazing Chrissy!!
xo
C
Wanna keep in touch? Why not like me on Facebook by clicking here, or follow me on Twitter by clicking here 🙂

Scones (or, as I sometimes like to call them, 'an excuse to eat jam and cream') have always been a favourite of mine. They are perfect for picnics, girly afternoon teas, bringing a plate along to family lunches, sharing at the office or packing in kids lunchboxes! They are also extremely versatile. Into the scone batter, you could add chopped dates, sultanas, cocoa powder, chocolate chips, caramel bits, berries, pumpkin, cinnamon, nuts and much more! You could also drizzle the baked scones with a simple glaze or melted chocolate for some extra decadence. You could also try other spreads rather than the staple jam and cream — why not try peanut butter, Nutella, or lemon curd? The possibilities are endless!
I am a big fan of shortcuts in the kitchen. Any way I can make recipes faster, cheaper and with less washing up is a huge plus for me! I do love cooking, but the less time spent cooking and cleaning up is certainly an attractive option! I always have plenty of other things to do, including reading up on my fave food blogs, catching up with friends and my TV shows (yay for the return of Dexter, Once Upon a Time, Revenge, Merlin and more!).
Fortunately for me, these scones are an absolute snap to put together! I borrowed this recipe from a work colleague who is famous for these scones and have heard many other friends say they enjoy this simple, tried and tested recipe.
Are you ready? … I hope you have your notebooks ready, because if you blink, you'll miss it!
Some call this recipe "Lemonade Scones", but I like to call them "Cheat Scones" because they're so dang easy to make, it feels like cheating!
Cheat Scones
Ingredients List : Makes 1 large batch of scones – about 20, depending on how large you make them
3 cups self raising flour
1 cup cream I used Coles thickened cream
1 cup lemonade I just used a homebrand version
Method:
Preheat oven to 200 degrees C.
Measure flour into a large mixing bowl.
Pour over cream and lemonade and mix together to form a sticky dough.
Turn onto lightly floured surface so the dough will not stick and knead lightly.
Press the dough into your workbench until it is about 2-3cms thick.
Cut with scone cutter (I dip it into flour before cutting each time to avoid sticking) and place on a lined baking tray and place all following scones together so they touch lightly (they will bake together but don't worry – they will be easy to pull apart.) Optional – you can brush the tops with milk before baking.
Bake for 15-20 minutes or until golden and sound hollow when tapped.
Serve warm with freshly whipped cream and jam of your choice. These taste best fresh from the oven while still warm but are still delightful later, microwaved for 1 minute on high. This recipe also freezes well. (I just pop them in ziplock bags and throw them into the deep freeze for easy scone goodness later on!).

Freshly baked golden scones just waiting to be covered in jam and cream!

I always buy the 600ml container of cream from Coles — it's the perfect amount because you can use one cup for the scones themselves and the other to whip and serve with them! I usually add a spoonful of caster sugar and cornflour to each cup of cream to slightly sweeten and stabilise the whipped cream. Any leftovers I keep in the fridge for scone goodness later on 😉
Hope you all had a lovely weekend! It's so sad it was over so quickly but I hope you managed to sneak in a bit of relaxing in with all the hustle bustle!
Here's to another week, cheers!
xoxo
C
Wanna keep in touch? Why not like me on Facebook by clicking here, or follow me on Twitter by clicking here. 🙂